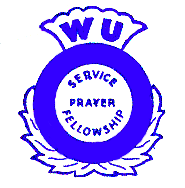 There is a small, but active Women's Union group, which meets monthly on Thursdays from October until April.
Most meetings are in the afternoon, at 2:00 p.m.
They hold several open evenings throughout the session to which visitors are most welcome, both men and women!
For details of meetings see the DIARY/WOMEN'S UNION Page.
Office Bearers
Presidents:      Mrs. Janette Smart          Mrs. Margaret Gillan
Secretary:        Mrs. Liz Gray
Treasurer:        Mrs. Vivian Bryson
Note:
The Women's Union is affiliated to the URC Scottish Synod Women's Union.
Two members of Hamilton URC are office-bearers of the National Body.
Mrs. Margaret Gillan is Secretary.
Mrs. Cathie Corner is President-elect, and will be in office from September 2012 until September 2014
---
Scottish Synod – Women's Union – A.B.M. report – September 2011